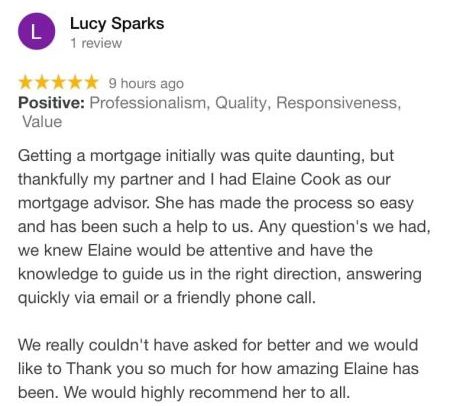 Lucy & Caroline
Have had the pleasure of using Gail and the team at Charles Mac twice now. When we decided to move Gail and Charles Mac were the only people we were interested in using. Would never hesitate in recommending them to anyone as you receive a warm and friendly welcome along with a very professional service. Gail or another member of the team were always happy to answer the phone and deal with any questions we had about our sale and purchase whether they were mortgage-related or not. Overall, a fantastic level of customer service from start to finish and we are very happy with the mortgage Gail secured for us.
T Snare – July 2018
Absolutely amazing service. Nothing is too much trouble. They've helped us twice now with a house move and remortgage and we can't praise them enough. Would recommend over and over.
N Relf – May 2018
Gail from Charles Mac has helped us on multiple occasions and I would never fail to recommend her to others. Not only does she take the time to really understand us and our needs but she goes above and beyond with her recommendations and advice. Gail has always been incredibly responsive to our questions, however small, and never fails to make us feel secure in our decisions. We've recently been looking into buy to let mortgages as well and she has been more than incredibly helpful explaining everything to us in a way that makes it so much easier to understand. Couldn't recommend Charles Mac and Gail enough.
C Fleming – May 2018
We got in touch with Mark Gubbins at Charles Mac when our two-year fixed deal was coming to an end and we were struggling to determine the best deal when doing our own searches.
Mark was approachable and professional throughout and took away the stress of trying to sort a deal ourselves. We gave him key bits of information, etc and he did all the work in the background, only getting in touch when necessary. He offered us competitive deals and advised of what the steps would be before completion, etc. Everything was done in an assured and timely manner.
We are happy with the deal he secured (especially with no arrangement fee!) and would definitely use him again and recommend to anyone else needing to organise a mortgage.
E Fagg – June 2018
This is the second time we have used Gail and her team and yet again we are so pleased with the excellent service they provided. The whole process was easy and stress-free. I really felt Mark went above and beyond to find us the best mortgage options and most importantly putting everything in simple terms. The whole team are fantastic, very friendly, personable and always happy to help. We will be using them again and would recommend them to family and friends.
H Larner – June 2018
Chris Carlile is THE guy to sort out your mortgage! Chris was recommended to us by a friend and we are mighty glad we chose him to help us purchase our first home. As first time buyers, we had no knowledge or experience with the mortgage world, Chris explained everything to us, answering our 1000's of questions and selected the best lender for our needs. Our situation wasn't an easy one – for starters we were purchasing a home 150 miles away, starting new jobs and we were on a VERY tight deadline (just a little stressful!). Chris worked tirelessly, and we had what seemed like 24/7 access to him (sorry for the late night messages Chris!) and was always on hand with his 'northern charm' ? to sort out any situation that arose!!
I am very pleased to say that everything went well and we are now settled in our lovely new home ? We would recommend Chris at Charles Mac and will definitely be using him when the time comes for remortgaging. Thank you Chris, you truly are a northern superstar!!
N Beadle
I cannot recommend Gail and the whole team at Charles Mac highly enough. As an anxious and clueless first time buyer, I often needed to telephone and clarify minor details regarding the mortgage arrangement with the team for my own understanding. Everybody answering the phone was polite and understanding, and I always received an answer and some reassurance (which was so appreciated!). Gail was also able to act on my behalf with the solicitor, ensuring all parties were working together for a smooth buying process. After a traumatic attempt to buy earlier in the year, working with Charles Mac made for the dream house-buying experience this time around (5 short weeks offer to completion). We were kept in the loop at every stage, by email, telephone and during face to face meetings, and securing the mortgage offer and sorting out surveys was as stress-free as it could possibly be! Their flexibility, honesty, dedication and level of care for their clients is unparalleled.
L Arnold – September 2018
We honestly cannot thank Chris Carlile enough for his constant help and support in sorting out a mortgage offer for us! He helped us to overcome every challenge that crept up and always remained positive that he would find us an amazing deal. Chris was always there to answer our questions and to guide us through the process. His commitment and service has been invaluable, especially when you consider they do not charge a fee like other mortgage consultants do! Thank you again Chris, you made what seemed impossible at one point, possible. We can not recommend you enough.
F Ratcliffe – September 2018
Mark Gubbins made the process of buying a house seamless. He provides an extremely professional service which couldn't be faulted. There was no "pushy sales approach" with regards to insurance policies. My husband and I will thoroughly recommend his services to anyone. We appreciated his support and guidance.
E Sheat – September 2018
A quick and efficient service provided by Mark, I was recommended Mark by a work colleague after I had mentioned I wasn't sure I could get a mortgage in my sole name. The whole process was quick even though my situation was quite complicated and Mark made sure everything was explained clearly and replied to any questions I had very quickly. I ended up with a really good deal and will be using Mark again when my current deal comes to an end. 100% recommend.
J Campion – September 2018
Excellent service provided by Mark Humphrey at Charles Mac. He was recommended to me by a friend and what a great recommendation. When my wife and I decided to move house I contacted Mark to see if he could find us a better deal than our existing lender could offer. He found us a deal saving us around £40 a month. He is very knowledgeable and kept us updated throughout. Mark made his side of our new purchase easy and hassle free and I would recommend him to anyone.
C Tilman – September 2018
Top effort from Charles Mac!!! Within my buy to let portfolio I have always done product transfers with the existing lenders, but after a meeting with Mark Gubbins at Charles Mac he found me a suitable product with another lender which has saved me 20% on my monthly premiums! I look forward to challenging Mark to save me even more next time round.
A Smith – January 2018
I have just received first class service and advice from Mark Gubbins at Charles Mac. I would highly recommend Mark to anyone needing mortgage advice. He has arranged a new mortgage deal saving me nearly £200 per month within a couple of working days, all free of charge to me. Thanks Mark – I won't ever be going elsewhere for advice in the future.
J Haji – March 2018
I've known about Charles Mac for some time with family members using them.
I can't say how impressed I am with Gail. Within 1 hour of contacting her regarding re fixing my mortgage rate she had contacted Santander found the best deals for me. Contacted me with all her recommendations which I chose based on her advise . Santander them emailed me to say all was in progress. All within the hour.
Completely easy and hassle free plus no fee for this service .
Gail is so experienced with vast knowledge I will be strongly recommending her to anyone in need of any mortgage service .
Thanks again Gail for saving me money each month
C Buckle – May 2018
Mark Humphrey at Charles Mac has done a fantastic job in helping me to renew my mortgage in a less than straight forward situation. Mark was patient, prompt and his communication was excellent, making the experience painless for me the whole way through and providing excellent information to allow me to make what I feel is a positive choice.
N Johnson – June 2018
I contacted Mark Gubbins at Charles Mac when my mortgage was about to end and I wanted to shop around for the best deal.
Mark was brilliant and I was really happy with the product he offered. Especially given the tight time scale I had to work within.
The deal I got with Mark was very good and there was no arrangement fee.
I will be using Mark again when my new deal ends and would without doubt recommend him.
T Wilson – July 2018
I recently purchased a new build house down in cornwall while working in ashford and as a first time buyer I was pretty worried about the process but the guys and girls at Charles Mac helped me through every step of the process without question, they are some of the nicest people I've had the pleasure of working with and they made the process so easy I felt like I was forgetting to do something, I would highly recommend this company any day of the week and will go back in a heartbeat when it comes time to move again.
K Brady – July 2018
Wonderful experience for us as first time buyers. Knowledgeable, and no pressure which allowed us to purchase within our means. Will be looking forward to using them again. Always responsive to emails, great communication and flexible to speak to us outside office hours to cater to our needs. Gave us complete confidence during the process and we remained relaxed with their reassurance. Made us feel comfortable whilst we were asking what we thought were silly questions. Plus they are based in a lovely location.
M Williams – August 2018
I had Mark Gubbins complete my remortgage. We was deciding whether to move or not so he happily provided all the relevant figures for me to make an informed decision. Very helpful, great service. Would definitely recommend.
S Harker – August 2018
Gail and her team were an absolute delight to work with. They were very prompt and attentive throughout the whole process. I really couldn't have done it without them, Gail went above and beyond her remit and made my move happen. Gail is the person to go to make your home moving dreams come true. Thanks to all at Charles Mac.

A Arnold – August 2018
Mark Gubbins at Charles Mac was a consummate professional throughout the whole mortgage application experience, giving us realistic advice and options and breaking down complicated processes. We never felt badgered or steered towards a direction we didn't like. He made the purchase of our first home as easy as we could have hoped and maintained good communication. Knowing that the fee for this service would be handled by commission from the lender took another weight off our shoulders. We would heartily recommend advice from Charles Mac.
J Ramsden – August 2018
I can't thank Gail enough for all of her help and support with arranging my first-time buyer mortgage and, just recently, a re-mortgage. She always goes above and beyond. She has spent a great deal of time patiently answering my many questions and explaining everything clearly to make the process as stress-free as possible. Her advice is excellent and she has secured a brilliant mortgage deal for me. Gail and her team are super and I would whole-heartedly recommend them to anyone.
F Milne – September 2018
I met Chris back in 2016 with an idea and since then he has worked tirelessly to provide the best mortgage deals for me which has enable my idea to come to fruition. He has offered unbiased honest advice which has been brilliant. He goes that extra mile to make sure you receive the best deal for your circumstances.
G Thomas – September 2018
Very happpy with Chris been helping us in the last 6 years with our mortgage, great service highly recommend thank you Chris
V Tsochev – September 2018
Chris Carlile at Charles Mac was fantastic in helping me renew my mortgage. He managed to get me a better rate than I could find, even with the same provider. He was professional and very approachable. I can't recommend him and Charles Mac enough and I will definitely be using Chris again!
J Burgess – July 2018